AEM to Exhibit at electronica 2016
2016-11-01
---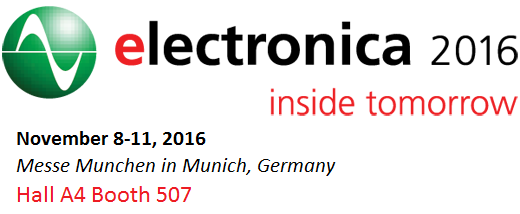 Visit us at electronica 2016 to explore our broad line of circuit protection components:
Automotive-Grade SMD Fuses
SolidMatrix® SMD Chip Fuses
AirMatrix® SMD Fuses
Resettable Fuses
HSP Surge Protectors
Multilayer Varistors
GcDiode® ESD Suppressors
SMD Ferrite Beads and Chip Inductors
About AEM Components (USA), Inc.
With over 25 years of experience, AEM Components (USA), Inc. has become a leading manufacturer in the surface mount electronic components industry, and it is one of the few companies to have its own unique technology platform. AEM's surface mount fuses; ESD suppressors and multilayer varistors (MLVs) provide circuit protection for commercial electronic products. The company also offers chip inductors and beads for electromagnetic (EMI) signal filtering. AEM possesses patented process technologies as well as proprietary nanoparticle composite material technologies, equipment technologies and computer simulation capabilities. AEM houses research and development centers, manufacturing facilities and sales offices in the United States and throughout Asia.
« Back to News