AEM Extends SolidMatrix 0603 Slow Blow Fuse Series to 8A
2013-03-27
---
Newly extended SolidMatrix® 0603 Slow Blow (SB) chip fuse series is available with current ratings ranging from 1.0A to 8.0A. The series is ideal for applications that require compact components with high in-rush current withstanding capabilities.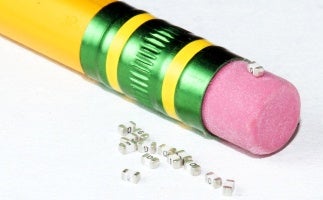 SAN DIEGO, CA - March 26, 2013 - AEM ComponentsTM today introduces a series extension for its SolidMatrix® Fuse line. The F0603 SB series SMD chip fuse is now available in 6A, 7A and 8A ratings. The high I2t value combined with the compact 0603 package size make this fuse ideal for applications like Ultrabooks, Tablets and All-In-One PCs. F0603SB series is also widely used in Small Motors Systems, Portable Electronics, Power Over Ethernet (POE), Computer Drives, LCD Displays, Printers, Servers, Test and Telecom equipment.
AEM's SolidMatrix® SB Series has a ceramic monolithic structure, silver fusing elements, and silver termination with nickel and tin plating. SolidMatrix® fuses are optimal for applications with operating temperatures of -55°C to +125°C (with de-rating) and are compatible with lead-free wave and reflow soldering processes.
AEM SolidMatrix® surface mount chip fuses are lead-free, RoHS compliant and UL recognized. The SolidMatrix data sheet is available here. Inquiries may be sent to AEM directly or to local AEM distributors.
Founded in 1986, AEM Components (USA), Inc. has become a leading manufacturer in the surface mount electronic components industry, and is one of the few companies to have its own unique technology platform. AEM's surface mount fuses, ESD suppressors and multilayer varistors (MLV) provide circuit and ESD protection. The company also offers chip-inductors and beads for electromagnetic (EMI) signal filtering. AEM possesses patented process technologies used internally for the efficient manufacturing of advanced passive components, as well as proprietary nano-particle composite material technologies, equipment technologies and computer simulation capabilities. With over 25 years of industry experience AEM houses research and development centers, manufacturing facilities and sales offices in the USA and throughout Asia. More information about AEM can be found at www.aemcomponents.com.
« Back to News