AEM Introduces Compact-Sized Surface-Mount Wire-in-Air Fuses
2015-06-02
---
Company's MF Series AirMatrix® devices offered in EIA1210 and EIA2410 packages; offer exceptional performance in high inrush applications such as LED lighting.
SAN DIEGO, Calif. — June 2, 2015— AEM Components announces the availability of the latest series of SMD fuses in the AirMatrix® product family. The family includes the 125V-rated MF1210 and the 250V-rated MF2410 models. The wire-in-air construction provides high I2t, making them ideal for high in-rush applications. The MF1210 is one of the smallest 125VAC rated fuses available at compact EIA 1210 footprint. The MF Series SMD package is compatible with standard SMT technology thereby reducing assembly cost and the small case size is ideal for end products with minimal board space.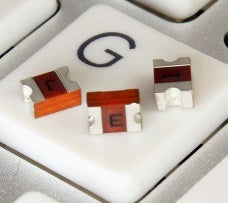 The MF Series devices have a wide operating temperature range of -55˚C to 125˚C and are RoHS compliant, halogen and lead free. In addition, the MF Series devices are capable of passing the EPA Energy Star 2.5kV and IEC61000-4-5 surge test making them a practical solution of LED lighting applications.
Key Features:
Compact 2410 and 1210 footprint
250VAC and 125VAC rating
High I2t
Pass Energy Star 2.5kV and IEC61000-4-5 surge test
RoHS Compliant, Halogen free and Lead (Pb) free
Operating temperature range -55˚C to 125˚C
Applications:
LED Lighting
Notebook /Tablets
Battery Chargers
AC Adapters
White Goods
Power Supply
For additional technical information, data sheet and application note are available online.
Product Information: http://aemcomponents.com/products/airmatrix-smd-fuses/
Data sheet: http://doc.aemcomponents.com/catalog/AEM_MF1210.pdf.
About AEM Components (USA), Inc.
With over 25 years of experience, AEM Components (USA), Inc. has become a leading manufacturer in the surface mount electronic components industry, and it is one of the few companies to have its own unique technology platform. AEM's surface mount fuses; ESD suppressors and multilayer varistors (MLVs) provide circuit protection for commercial electronic products. The company also offers chip inductors and beads for electromagnetic (EMI) signal filtering. AEM possesses patented process technologies as well as proprietary nanoparticle composite material technologies, equipment technologies and computer simulation capabilities. AEM houses research and development centers, manufacturing facilities and sales offices in the United States and throughout Asia. More information about AEM can be found at www.aemcomponents.com.
« Back to News